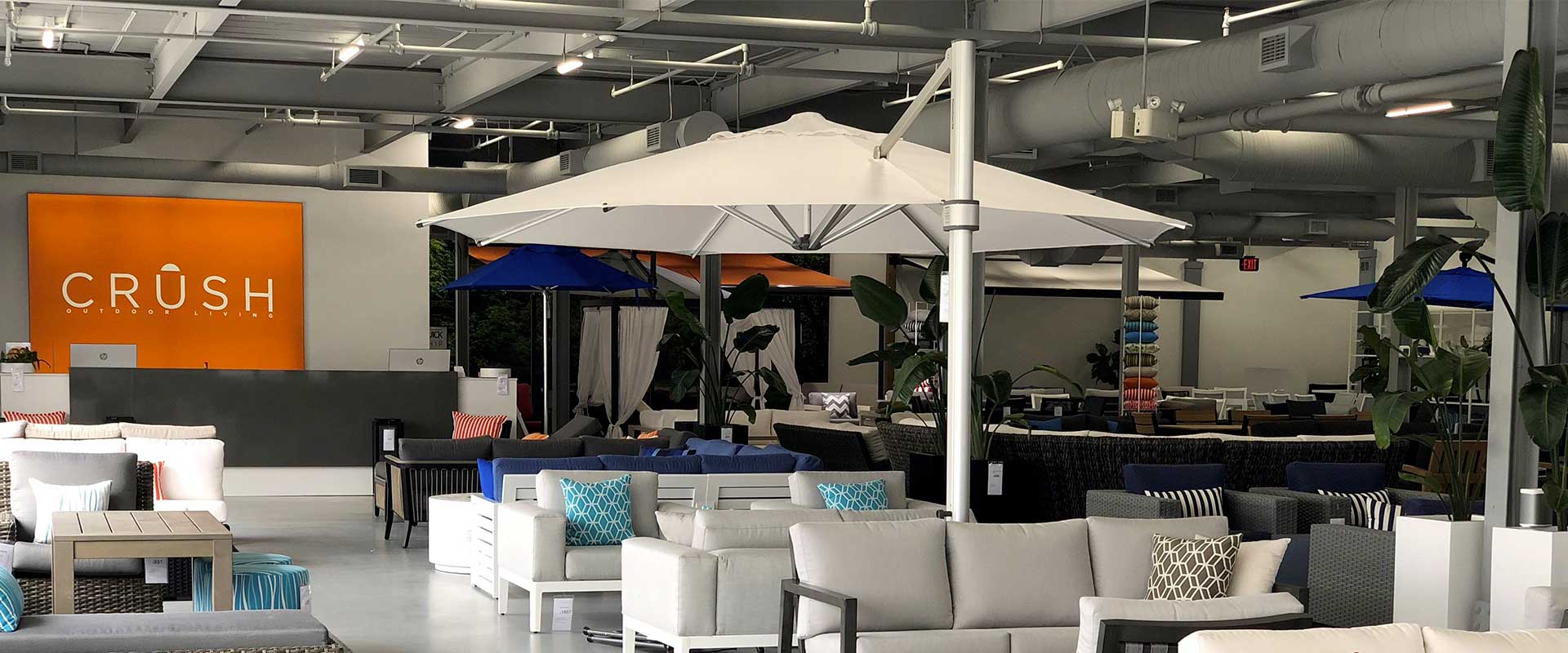 Our Business
Situated in the Castlefield Design District in the heart of Toronto, CRUSH Outdoor Living is a new retail store specializing in awning and shade solutions as well as luxury outdoor furnishings and accessories.
CRUSH offers a 10,000 square feet showroom and a design centre to help you take your outdoor space to the next level!
Our Products
We're CRUSH-ing on helping our customers create a perfect outdoor setting that's tailored to their individual needs. Whether it's hosting an evening with friends or sitting back and unwinding with family, we can help you to do it in comfort and with style!
We proudly offer the full CABANACOAST® outdoor furniture collection as well as BAT and STOBAG awnings and shade solutions.
A proud Canadian company that was established in 2000, CABANACOAST® is a comprehensive line of luxury outdoor furniture that is sold across North America. Suitable for both residential and commercial use, CABANACOAST® unites contemporary furniture styles with a curated range of finish options and performance outdoor fabrics to create exquisite, modern design. The many complementary combination options mean that the possibilities are nearly endless for creating a highly personalized outdoor space.
As industry leading awning manufacturers, both BAT & STOBAG offer an expansive range of products from awning systems and motorized pergolas, to retractable solar screens to give you the best sun and weather protective solutions for your home. Using leading edge European engineering and design, all awnings are customized and assembled locally to create a unique shade solution for your space. With a selection of more than 300 awning fabrics and the ability to combine them with numerous frame colors, the possibilities are endless.
Our Team
Our team of professionals are passionate, excited, and bursting with creativity. We are the experts on the products that we sell! Our aim is to use our passion for outdoor living and our wealth of knowledge and experience in both shade and outdoor furniture products to serve and delight our customers. We are well versed on up and coming design trends and we are here to give you a memorable experience and to guide you in your journey of finding the style that best suits your taste and your space.
We have a CRUSH on what we do. When you leave our store, we hope you will have a CRUSH on us too!
Visit us at our 1400 Castlefield Ave. location to begin the journey to your perfect outdoor room!